<![endif]-->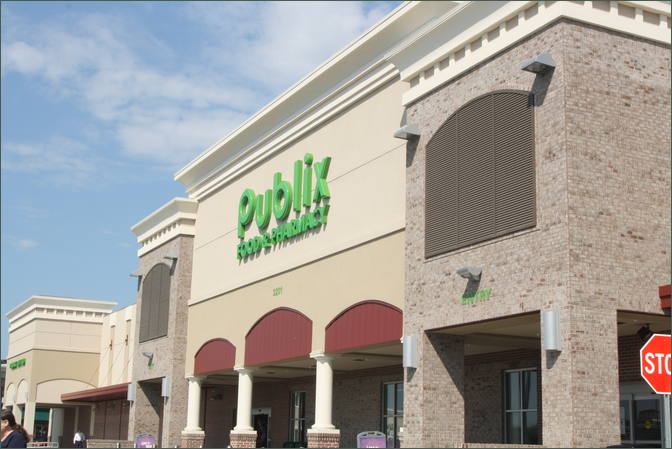 Cross Country Plaza
3201 Macon Rd


Columbus

, GA

31906



Cross Country Plaza is in the heart of Columbus, GA, conveniently located at the intersection of Macon Road & Auburn Avenue just off of I-85 at Exit 6.
Cross Country is less than 1 mile from the Columbus Country Club, 2 miles from AFLAC Insurance's headquarters and 3 miles from Columbus State University, St. Francis Hospital and the Columbus Airport.
Cross Country is also near Fort Benning, which serves 40,000 active-duty military personnel and supports over 120,000 military, family members and civilians.
Closest traffic count to site estimates 30,110 cars per day on Macon Road.
Anchored by Publix and TJ Maxx.
Demographics
| | 1 Mile | 3 Mile | 5 Mile |
| --- | --- | --- | --- |
| Population | 7,571 | 75,128 | 163,730 |
| Households | 3,085 | 30,819 | 65,684 |
| Avg HH Income ($) | 77,765 | 52,538 | 54,990 |
| Median Age | 39 | 36 | 36 |
Highlights
For Lease
County: Muscogee County
Type: Retail
Total SF: 368,360

Leasing Agent
Dana Newby
Leasing Agent 3715 Northside Parkway, Building 400 Northcreek Suite 100
Atlanta, Georgia 30327
p. 404-846-4033
f. 404-846-8660

Property Management
Adam Holland
3715 Northside Parkway, Building 400 Northcreek Suite 100
Atlanta, GA 30327
p. 404-846-4019
f. 404-846-8660

Maintenance Request

Vickie Smith
2010 Auburn Avenue
Columbus, Georgia 31906
p. 706-563-2223
f. 706-563-2227

Cross Country Plaza
| | |
| --- | --- |
| Available | Coming Available |
Available Spaces
| | | | | | |
| --- | --- | --- | --- | --- | --- |
| 105 | 3,394 SF | | 108 | 4,165 SF | |
| 123 | 1,950 SF | | 129-130 | 10,676 SF | |
| 131A | 5,442 SF | | 134 | 23,500 SF | |
| 1205 | 1,810 SF | | 1208A | 2,274 SF | |
| | | |
| --- | --- | --- |
| 100 | Chipotle | 2,700 SF |
| 101 | 2nd & Charles | 19,768 SF |
| 102 | Chuck E Cheese | 15,276 SF |
| 103 | Mattress Firm | 3,995 SF |
| 103A | Great Clips | 2,405 SF |
| 104 | Subway | 1,500 SF |
| 106 | Covington Credit | 1,800 SF |
| 107 | Sally Beauty | 1,852 SF |
| 109-115 | Black Friday | 14,644 SF |
| 117-118 | Foot Locker Store | 3,306 SF |
| 119A | The UPS Store | 2,650 SF |
| 120 | Package Store | 3,906 SF |
| 121 | H&R Block | 2,759 SF |
| 122 | Pet Supermarket | 10,218 SF |
| 125 | Publix | 54,340 SF |
| 130B | CATO | 4,885 SF |
| 131B-C | City Gear | 5,678 SF |
| 132A | TJ Maxx | 24,877 SF |
| 132B | Goodwill | 13,400 SF |
| 133A | Star Nails | 1,400 SF |
| 133B | Firehouse Subs | 1,400 SF |
| 133C | Wing Stop | 1,400 SF |
| 133D | T-Mobile | 2,100 SF |
| 137 | Suntrust Bank | 5,050 SF |
| 139A | Dunkin Donuts | 1,785 SF |
| 139B | AT&T | 3,700 SF |
| 140 | Denny's | 4,900 SF |
| 142 | American Deli | 3,050 SF |
| 1201 | Hibachi Grill & Buffet | 14,755 SF |
| 1203 | GA Nail Salon | 1,374 SF |
| 1206 | Angels Dollar Shop | 6,738 SF |
| 1207 | Affordable Dentures | 2,415 SF |
| 1208B | A-1 Vacuum Cleaner | 2,562 SF |
| 1209 | Management Office | 1,256 SF |
| 1210 | Katyah African Hair Braid | 650 SF |
| 1211 | Dance Studio | 2,075 SF |
Cross Country Plaza